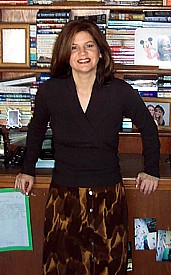 Assertive and caring advocate for those
in domestic crisis.

Family Law · Wills · Trusts · Mediation

I am an attorney in Sonoma County, California. The primary area of law I practice is family law.

I also assist my clients with legal issues relating to wills, trusts and bankruptcy. The information presented here is designed to answer some of your basic legal questions. Should your situation require it, please do not hesitate to contact either myself or another attorney.

To the average person, the legal system is often confusing, seems unusually slow and is potentially frightening. Many people have never spoken with an attorney, let alone been in a court room. They often do not understand all the legal "mumbo-jumbo" and become frustrated with the "nit-picky" bureaucracy.

It is my goal to help my clients smoothly navigate these rough legal waters. I strive to keep my clients well informed without overloading them with "legalese". My goal when representing a client always remains one of seeking the best possible settlement in the shortest possible time. I am more than their lawyer; I am their advocate, their counselor and often their friend.

I have been practicing law since 1994. I have two children of my own, which I believe gives me a greater insight into the custody issues which surround a divorce.

I offer a free half-hour consultation for all new prospective clients. All inquiries are strictly confidential.
Contact me via email or by phone. I look forward to hearing from you!


PROFESSIONAL ASSOCIATIONS



State Bar of California

Sonoma County Bar Association (SCBA)


... Alternative Dispute Resolution


... Family Law Section


... Fee Arbitrator



Sonoma County Women in Law


... Co-President, two year term


... Board Member, two year term



Legal Aid Referral



Collaborative Family Law



DOVE (Domestic Violence Education Project)

EDUCATION



Juris Doctorate


University of the Pacific, McGeorge School of Law

Bachelor of Arts


Sonoma State University
DISCLAIMER


Website design by HYPERSPHERE
©2006 Robin M. Estes. All rights reserved.